Sustainable battery charging systems
Sustainability is playing an increasingly important role in intralogistics. Customers and business partners are seeking ever more precise information about their CO2 footprint along the entire supply chain, with large companies even demanding that their suppliers take specific measures to reduce emissions. A thorough and detailed analysis of all the logistics processes is a fundamental prerequisite for this.
Battery charging systems for "green logistics"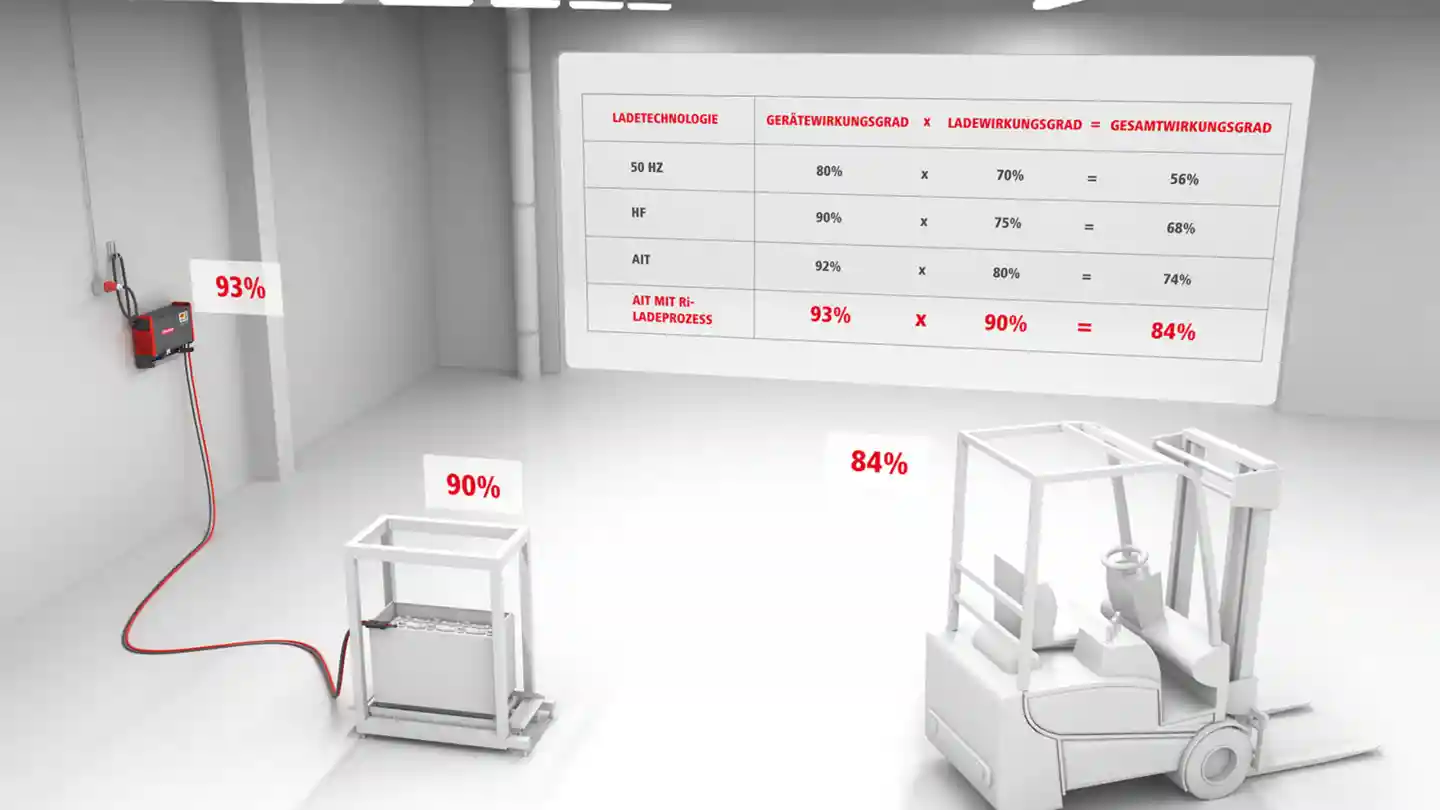 Solutions for reducing energy requirements and CO2 emissions are also in demand for fleets of electrically-powered forklift trucks. Yet instead of only considering the forklift truck itself during the analysis, the user should take the entire three-part system - consisting of forklift truck, battery and battery charging system - into account.
Fronius offers operators of electrically-powered forklift trucks a free analysis and energy consultation, with the focus on sustainability and efficiency. Not only does Fronius calculate the total operating costs ("costs over lifetime") for the entire fleet using the I-SPoT Calculator software tool, but also determines the potential savings of the battery charging technology. This shows a detailed and clear analysis of the current situation, from the enterprise as a whole right down to forklift truck level. Switching from conventional 50 Hz or high frequency chargers to a modern Fronius battery charging system often enables operators to dramatically reduce the energy needs and CO2 emissions of their intralogistics operations.
Fronius battery charging systems with the new Ri charging process offer a clear advantage. This charging process does not follow a fixed characteristic; instead it adapts according to the age, temperature and state of charge of the individual battery, reducing overcharging and thus energy losses during charging. With a total efficiency of up to 84 percent, Fronius devices have considerably lower energy requirements compared to other charging technologies; they also reduce the CO2 emissions whilst ensuring an efficient and sustainable intralogistics process.