Fronius Solutions Partner One vision. Strong partners.

The world of energy is changing: digitisation and new technologies for mobility are opening up new areas of business. To make use of these opportunities, we need to understand energy as a multi-sector concept and advise the customer accordingly. Our goal is to provide the best possible service to our customers. We can only achieve this with strong partners, which is why we are further enhancing our partnership program.
Together for 100% renewable energy.
Register now
The advantages at a glance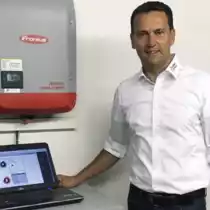 » With the help of Solar.web, we know about system faults often before the owner even notices. That's great for customers because we can solve problems before they even realise they have one. And if it's a more serious fault, then the Fronius Technical Support Hotline is there to help. It's the best on the market. «

Robert Kimmich, Elektro Brodbeck & Kimmich
Annual practical training course and webinars
Advanced information through exclusive product presentations
Networking Events
Best service plan on the market
Exclusive on-site PC board replacement
Listing of your company in the Fronius installer search
Position yourself as qualified partner in the installation and care of Fronius system solutions
Are we the right partner for you?
You have experience in delivering reliable PV systems tailored to the customer's requirements. When designing the system, you are always determined to ensure your customers can use the system's yields in the optimum manner.
Do you want to provide reliable energy system solutions as well as significant added value when it comes to installation and service?
Become a Fronius Solutions Partner Installer and gain a decisive edge in practical knowledge as well as exclusive benefits for getting the best out of Fronius system solutions.
What do we expect?
A minimum of one person has to accomplish the annual practical training course
Regular use of your own Fronius Solar.web account
Annual update of contact details
*The final decision upon acceptance of the applicant company as Fronius System Partner behoves Fronius
OUR VISION OF 24 HOURS OF SUN IS WHAT DRIVES US.
The Fronius Partner Programme is an important step towards realising our vision of "24 hours of sun", a future in which 100% of the world's energy needs are covered by renewable sources.
Together for 100% renewable energy.
One Vision. Strong Partners.