1 MW field installation with Fronius Tauro in Greece
12/10/2019 / Greece, Kastoria
Robust, flexible, user-friendly, cost-efficient - these are just some of the ways in which to describe the Fronius Tauro.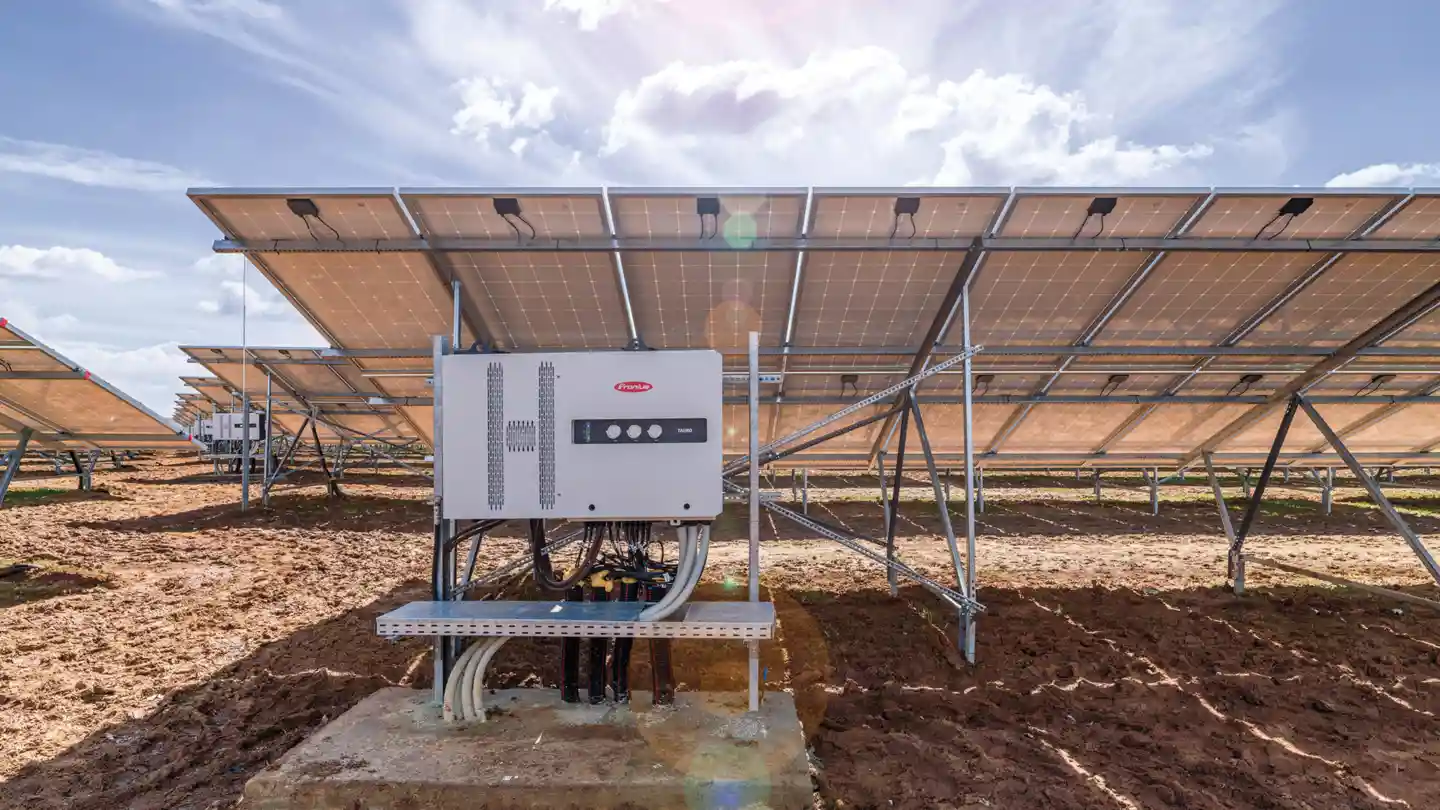 Nearly a year on from the installation and start-up of the Fronius Tauro in the high plains of Greece, Fronius developer Johannes Starzinger can confidently claim that: "The new commercial inverter has delivered what it promised." Altogether 13 Fronius Tauro devices with outputs of 50 and 100 kW were installed in the free-standing system. The system produces a total annual output of 1,500 MWh CO2-free PV energy.
When asked why he decided to work with Fronius, system owner Christos Syrikelas replied: "Our company has already been active in this field for many years, which is why we opt for long-lasting PV systems. We place great value on reliable partners that offer high-quality products and have years of experience in the solar sector."
The Tauro was installed outdoors without any additional protective sleeve, saving costs
It was not by chance that the system in Kastoria was chosen for the pilot project: cold winters and hot summers are the norm here. Active cooling and the unique double-wall technology mean that the Tauro can even be installed - without an additional protective sleeve - in unsheltered outdoor locations. The system owner Syrikelas also benefits during the installation stage as he saves on additional protection for the inverter. The active cooling technology also saves him having to carry out regular maintenance during operation, which keeps the operating costs down.
Saving costs during installation with AC Daisy Chaining
The new AC Daisy Chaining technology was also used in Greece for the first time. This saves Syrikelas money from the time the PV system is installed as he needs fewer AC cables and fewer AC combiner boxes. AC Daisy Chaining saved the Greek system owner around a third of the AC cabling costs in total and helped to reduce the installation effort.
Focus on maximum flexibility
The system was set up as a decentralised system, although centralised planning would also have been possible with the Tauro. The same applies to the choice between free-standing or roof: both options are possible. System planners also have maximum flexibility when it comes to the mounting angle as the Fronius Tauro can either be installed vertically on mounting pillars or laid down flat on a roof horizontally. The Tauro can even be exposed to direct sunlight at ambient temperatures of 50°C.
Size of system
1 MWp
System type
Field installation
Inverter

7 x Fronius Tauro ECO 50-3-D

6 x Fronius Tauro ECO 100-3-D

Modules
Monocrystalline 345 Wp, 2,898 pieces
Annual yield
Approx. 1,500 MWh
CO2 savings / year
Approx. 795 t
Maximum flexibility with the Fronius Tauro
System type
Topology
Centralised
Decentralised
Mounting angles from 90° to 180° (vertical or horizontal)
Installation in direct sunlight
Active cooling and the double-wall system
Unique cooling system with double-wall construction
Power electronics remain significantly cooler
Extended service life for the electronics
Inverter can be placed in direct sunlight
Full performance up to 50°C ambient temperature
No regular maintenance needed
AC Daisy Chaining
AC daisy chaining of two inverters
Fewer AC combiner boxes & AC cables required
AC cable costs are reduced by a third