Fronius storage solutions become even more flexible
2018. 12. 06. / Austria, Gmunden
Fronius Symo Hybrid and BYD Battery Box HV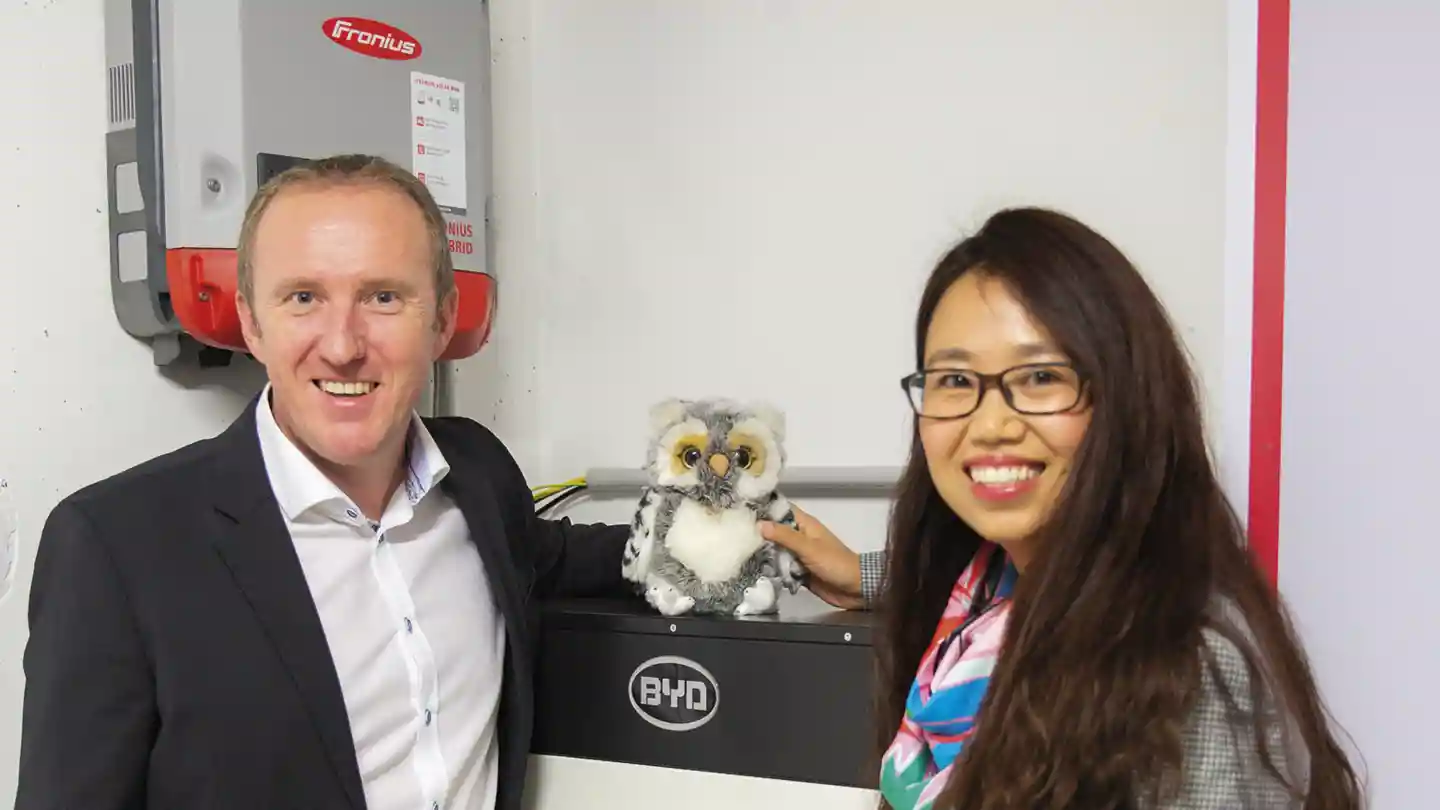 From spring 2019, the Fronius Symo Hybrid will be compatible with BYD Battery-Box HV storage systems
One of the first PV systems with Fronius Symo Hybrid and the Battery-Box HV storage system from BYD was recently put into operation in the technology centre in Gmunden in Upper Austria.
The pre production system includes a Fronius Symo Hybrid inverter, Fronius Smart Meter, a BYD Battery-Box H 11.5 and two Fronius Symo 10.0-3-M inverters. Fronius is not only demonstrating its above-average flexibility in terms of the range of storage systems available, it is also providing genuine three-phase emergency power with the BYD Battery-Box H. Since the batteries can be expanded on a modular basis, the storage capacity can be adapted to the individual requirements of the customer at any time.
"Pre-production systems like this one in Gmunden, for example, are currently being put through their paces in live tests. From the first quarter of 2019, the Fronius Symo Hybrid will be compatible with the BYD Battery-Box HV storage systems as standard", enthuses Fronius Product Manager Susanne Lampl.
System data
Size of installation
22 kWp
System-type
Roof-top installation
Storage solution

Fronius Symo Hybrid Inverter

Fronius Smart Meter

Storage
BYD Battery-Box H 11.5
Inverters

1 Fronius Symo Hybrid

2 Fronius Symo 10.0-3-M

Commissioned
November 2018
Storage technology
Lithium iron phosphate

Available from the first quarter of 2019
What you can expect:
Emergency power capability for three-phase households
Storage system can be expanded on a modular basis from 6.4 to 11.5 kWh
Reliable lithium iron phosphate technology
Combination options with Fronius Ohmpilot heat storage system and electric car charging infrastructure